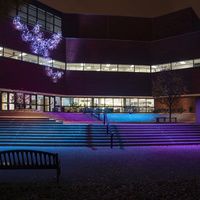 The University of Louisville School of Music is committed to teaching music as an artistic, academic, and professional discipline; to fostering in a variety of ways and for diverse communities the creation, performance, study, teaching, and therapeutic use of music; and to contributing innovative musical leadership in the city of Louisville and beyond.
The School of Music is committed to
•    Providing students with a balanced set of musical performance, aesthetic, and analytical experiences that will allow them to advance as professionals in chosen fields of study
•    Providing instruction and opportunities in music that enables all students to make music activities an enduring part of their lives
•    Performing, promoting and developing understanding of music by living composers
•    Serving the university, community and music profession through presentations of music performances, support for music education and therapy, and collaborations with other performing arts organizations
•    Advancing the art of music globally through the work of faculty composers, performers, teachers, and researchers.
Support and #RaiseSomeL for this project today!
---